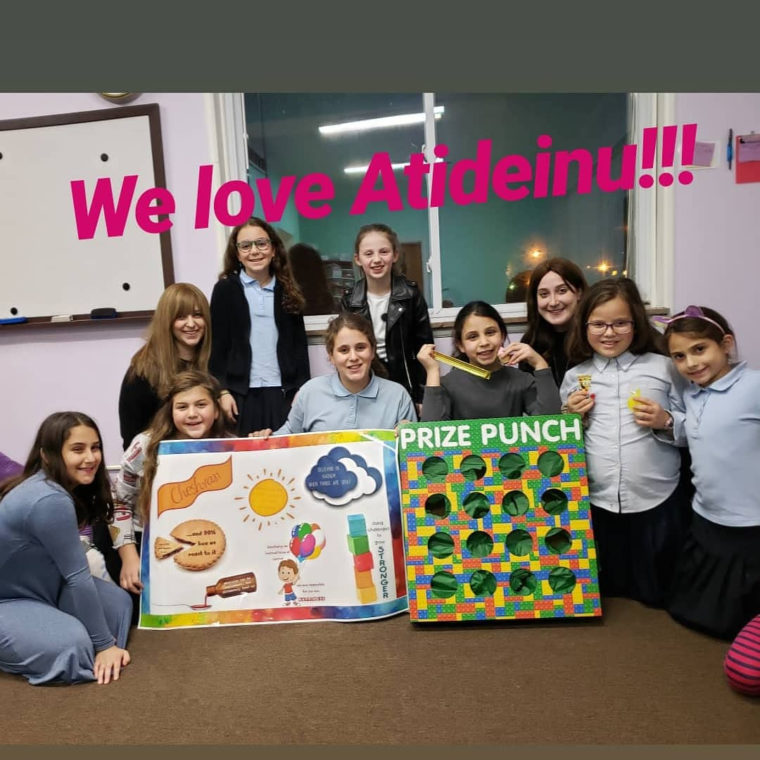 December 4, 2019
Dear Parents,
It is hard to believe that we are already in Kislev with Chanukah right around the corner! Here at Atideinu, we had a packed month of Cheshvan, filled with games, activities and projects as we explored and grew through our many monthly themes.
Our Cheshvan themes involved staying hopeful and believing in Hashem when life becomes difficult and recognizing that we are ultimately in control of our own happiness. We broke out our themes with a super fun water art project where the children drew and wrote hidden messages with a white crayon and revealed them using water paint! Our next activity involved creating our very own "I spy" jars! The kids were given a sheet of mini shapes and pictures to cut out and filled their jars with rice, beads and other decorative supplies. They then had to try to find the pictures within their jars! We explored how sometimes, amidst struggles, we need to look deeply to find Hashem and even though it can take some time and effort, He is always there. We continued to process the value of looking for Hashem in every situation by playing an awesome prize punch game where each child retrieved a prize as they punched their hand through the hole! While no one knew what they would retrieve "beneath the surface," each prize was unique and enjoyable.
As the month went on, we explored the concept of "Life is 10% what happens to you and 90% how you react to it" by creating individual "kerplunk" games that the children tested out here and then brought home. As the kids played the game, they realized that they were able to choose how they felt and reacted, regardless of whether they won or lost. We explored the importance of being a good sport and remaining positive even when we aren't "winning." To further impart this message, we also engaged in a balloon challenge in which the children were tasked with getting a single balloon from one side of the room to the other, using only the various supplies provided. It took many different attempts to complete this successfully and the kids recognized the importance of learning from their mistakes and continuing to persevere with confidence.
The month continued with several other activities to help the children absorb these themes. The kids colored their own color by number, made their own slide puzzles and did a blind building activity back to back with a partner, mirroring an image their partner created by listening to instructions and not seeing anything. We ended the month with our monthly auction and took advantage of that opportunity to throw in some financial literacy and budgeting skills!
I'd like to thank all of our parents who bought tickets to our Chanukah raffle. If you have not had a chance to purchase tickets yet, please show your support by clicking here for our raffle. Also, a quick reminder to share the raffle information with at least ten friends or family members as we heavily count on our two raffles a year for fundraising for the organization.
Lastly, we are nearing January which means we are nearing touch base session time! Please be on the lookout for an email from our Operations Manager, Tova Holstein, some time in the next few weeks. Please remember that both parents are needed at the session to maximize the benefit for your child. Please contact Tova Herskovic if there is an issue that will prevent this.
As a reminder, follow us on Instagram to get a close-up view of Atideinu! Please send us an email at director@atideinu.org if you would like us to tag your child in our posts.
I wish you and your families a wonderful Chanukah and am looking forward to seeing you next month.
Sincerely,
Chana P. Handler
Founding Director, Atideinu