Our Future: Watch the Atideinu Story
Building Our Future Today
"The most vital component in education today isn't transmitting information, or even inspiration…It's giving the child a sense of self-worth, a sense of self, a strong identity."
"Watching the girls' growth in social interactions, self-esteem, self-advocacy, and developing into truly well-rounded citizens in our school and community is a true celebration. Teachers, parents, and support personnel in our school all identify the 'Atidenu girls' as girls with a higher social-emotional awareness and skill level."
"I still believe Atideinu is helping save her life and future."
"When we think back on these pre-teen years, I know that Atideinu will be a positive memory and our child will use all the skills learned there to navigate life's difficulties ahead. We couldn't have asked for a better program"
"I look forward to watching each of my children grow in their love for Yiddishkeit and blossom as human beings as a part of Atideinu! Thank you so much!"
Atideinu has created a proactive approach to helping children.
We asked ourselves, "What needs to happen for children to develop strong leadership skills, be emotionally and socially healthy and spiritually connected?"
Atideinu is an early-intervention, preemptive program to help children develop the skills they need to become healthy and contributing members of our community.
Our not-for-profit enrichment program hosts three unique curricula:
After-school program for children in grades 4-6
Alumni program for Atideinu graduates in grades 7-9
Home-based Foundations program for families all over the world
Each and every year, programs around the globe focus on helping children and teens who have been hurt mentally, emotionally and spiritually.
At Atideinu, we've taken a proactive approach to help prevent such struggles. Our programs help children develop a healthy sense of self-worth and the emotional, social, and mental skills needed to become the very best version of themselves.
But, we can't do it without you. . . In order to be as inclusive as possible, we do not have any fees for the families whose children participate in Atideinu. So often, financial challenges keep children from receiving the support that will help them flourish, and we want everyone to flourish. 
Our proactive, life-skill-building programs need donors who understand the value of strengthening our community by helping our children develop before issues arise.
You can support our children by becoming a donor.
Counseling, support programs and mental health guidance are invaluable resources once a problem with a child has been identified. On the other side of the coin, the children who are thriving on their own don't necessarily need external support to help them continue to develop into the best version of themselves.
What about the children in our community who are doing "okay?" Who will help them develop the skills everyone needs to meet the challenges of life in a healthy way?
The Atideinu program for fourth, fifth, and sixth-graders has been specifically designed to support children who are not in crisis to develop the self-esteem and tools they will need to thrive in every setting.
The professional level of our programs requires us to have experienced and credentialed professionals working with our children.
When you see the commitment our staff has to the children and to Judaism, you will understand how much work, effort and love they have invested to put into practice the positive, evidenced-based enrichment model that we have created.
Recruiting and training the best staff members means that we need help from donors like you to support our program and help us to build children who will lead our community into the future.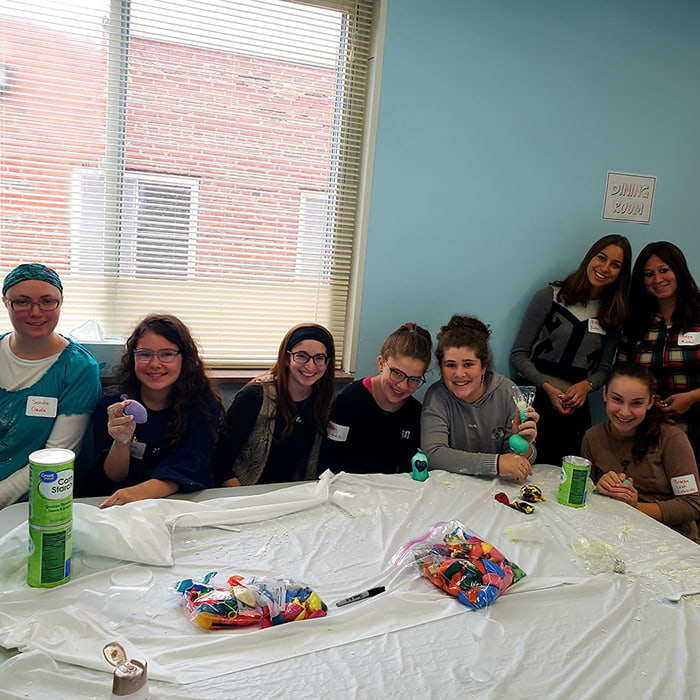 What happens to Atideinu students after sixth grade?
Due to overwhelming demand, the Atideinu team has launched an Alumni program so that our kids can still have access to and support from the staff.
During a child's time in our Alumni Program, they will continue to build upon the social, emotional and spiritual skills they gained during their first three years at Atideinu.
Each of our graduates meets with their Alumni Advisor on a weekly basis to cultivate a strong and supportive relationship with another adult in their lives, as they face bigger challenges in the middle and high school years.
The Alumni Program also meets once a month as a group to maintain their connection with each other and to participate in an Atideinu activity designed for older and more sophisticated children.
Foundations (Atideinu at Home)